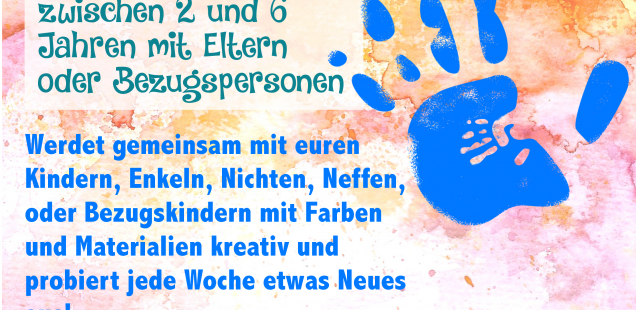 Familienatelier im Herbst ab 05.09 / Autumn Family – Atelier starting at the 5th of September
—English version below—
Am nächsten Donnerstag, den 05.09.19 fängt ein neues Familienatelier an, dieses mal ganz unter dem Thema "Bunter Herbst". Wir treffen uns Donnerstags von 15:30-16:30 Uhr.
Es sind noch Plätze frei, meldet euch an!
Das Familienatelier ist ein Kreativkurs für Kinder im Alter zwischen 2 und 6 Jahren mit Eltern oder Bezugspersonen. Die Erwachsenen (auch Oma, Opa, Tante, Onkel usw.) werden hier gemeinsam mit ihren kleinen Schützlingen  schöpferisch mit Farben und verschiedensten Materialien tätig. Durch die Zusammenarbeit und das gemeinsame Tun und Erleben werden Kommunikation und Bindung zwischen den Kindern und ihren Bezugspersonen gefördert.
In 5 Einheiten Vom 05. September bis zum 10. Oktober werden wir uns jeden Donnerstag einem neuen kreativen und herbstlichen Projekt widmen. Bei schönem Wetter  finden die Treffen draußen im Nachbarschaftsgarten des Stadtteilprojektes statt!
Die Teilnahme am Angebot ist kostenlos, um Anmeldung wird gebeten unter:
zusammenleben.dresdner59@gmail.com
Teilt das Angebot gerne mit anderen Interessierten und Freunden!
---
There will be a new edition of our 'Family-Atelier', this time focussing on the theme 'Colorful Autumn'! It is starting next Thursday, the 5th of September. From then on we will meet on Thursdays from 03:30 – 04:30 p.m. .
There are still spaces available, register now!
The 'Family-Atelier' is a creative class for children between the age of 2 – 6 and their parents or persons of reference. The adults (also grandparents, aunts or uncles) are sharing creative and inventive experiences with colors and other materials with their little ones. By working and experiencing together, the communication and bond between children and their parents or persons of reference is strengthened.
From the 5th of September to the 10th of October we will try out different creative methods and projects on the subject `Colourful Autmn` every Thursday. If the weather is nice, we will spend our meetings outside in the Neighbourhood Garden of Dresdner59!
The participation is free of charge, registration required at:
zusammenleben.dresdner59@gmail.com
Please share with friends!
---
Dieses Angebot wird gefördert durch den Freistaat Sachsen im Rahmen des Landesprogramms Integrative Maßnahmen sowie durch die Evangelisch-Lutherische Landeskirche.