This year we go into the 4th round with our living christmas calendar.
We hope, next to all the visitors, that there will be many door-openers as well!
How it works: Private people, associations, initiatives out of the community open their doors for at least 30 minutes and do something in the spirit of christmas.
You can sing, dance, read, paint, do handcrafts, write…whatever you are able to instruct people to do. So share your talents, knowledge, passion in christmas atmosphere.
Get to know your neighbours an live the good life!
Note: Visiting the calendar has to be admission free.
Last year it looked like this: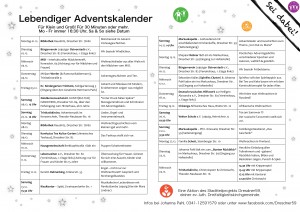 If you want to host a door, tell me under: stadtteilprojekt@dresdner59.de or 0341 – 12591579